'To Give What Is Due', Galerie In Situ - Fabienne Leclerc, Paris, 2018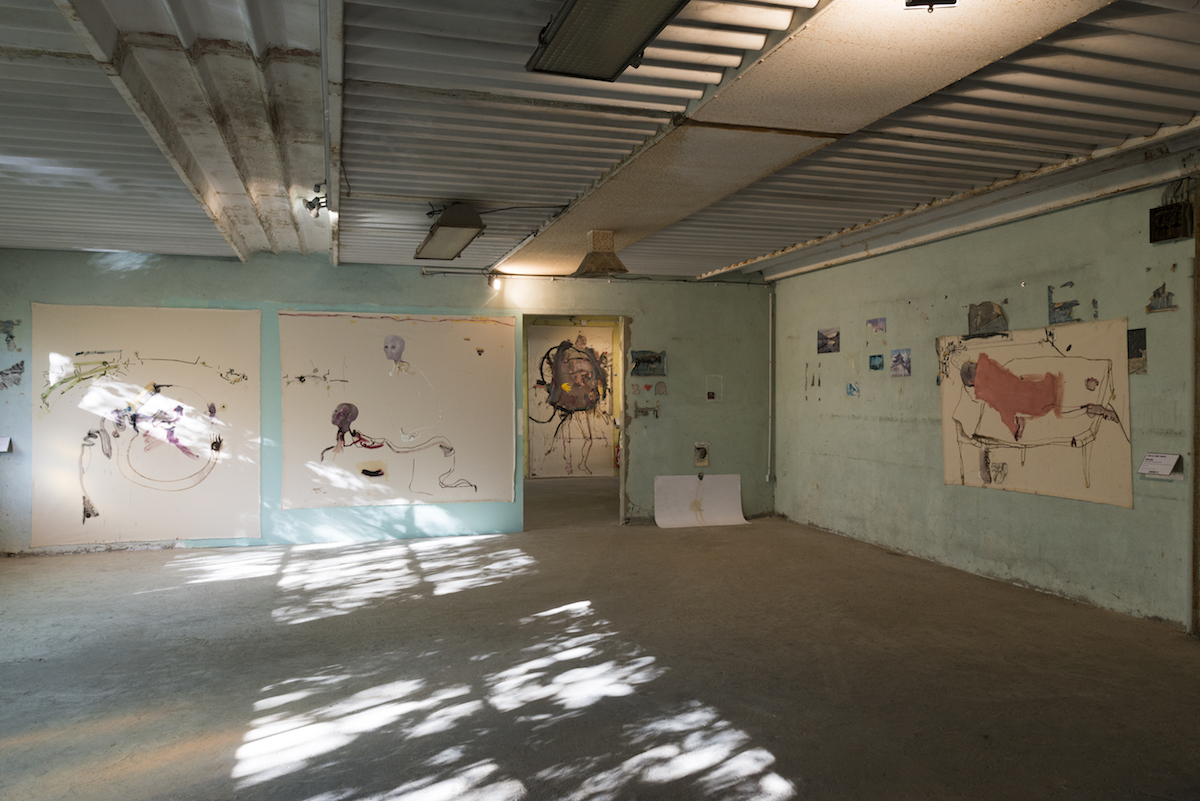 Galleria Continua, Les Moulins, 2017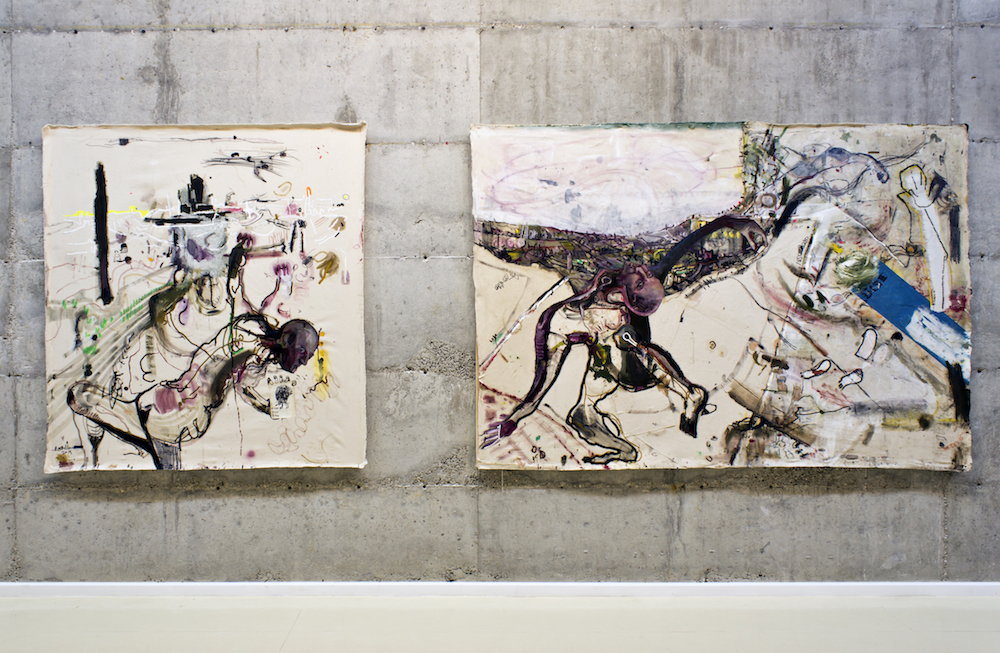 Full to Capacity, Herzliya Museum, 2016
The one-person exhibition of works by Amir Nave (b. 1974, Israel; lives in Tel Aviv) focuses on a number of oil and graphite on canvas paintings produced over the last two years. These large works attest to his dynamic work process – expanding the format, changing his painting materials, and distilling his symbolic language. At the very start of his career, Nave's works were characterized by an intimate scale and mainly included drawing and intense, semi-automatic inscriptions scribbled with pen, pencil and felt-tip pens on casual papers or pages from old books. His repertoire of formats has expanded gradually. In addition to his continuous work on paper, he has started to paint in thick layers of oil on canvas.
The works present a sharp, pithy image of an existential state – both internal and external – characterized by dense urgency, ceaseless self-searching, and constant oscillation between fantasy and trauma. Nave's painting transpires in the gaps within artistic illusion, exposing the mechanism of its production and in doing so breaking it. This is a restless painting dynamic that constantly strives to define or redefine the space, always making adjustments, whose traces attest to this recurring, dissatisfied process. The male subject at the heart of Nave's work appears recurrently as a split, distorted, flawed, at times hybrid figure. He is pushed, raised, shoved – always passively. Painting – like a ruin charged with the energy of touch, with roughness and imperfection, retaining the heat of materiality – is the last bastion against collapse in the face of outside reality.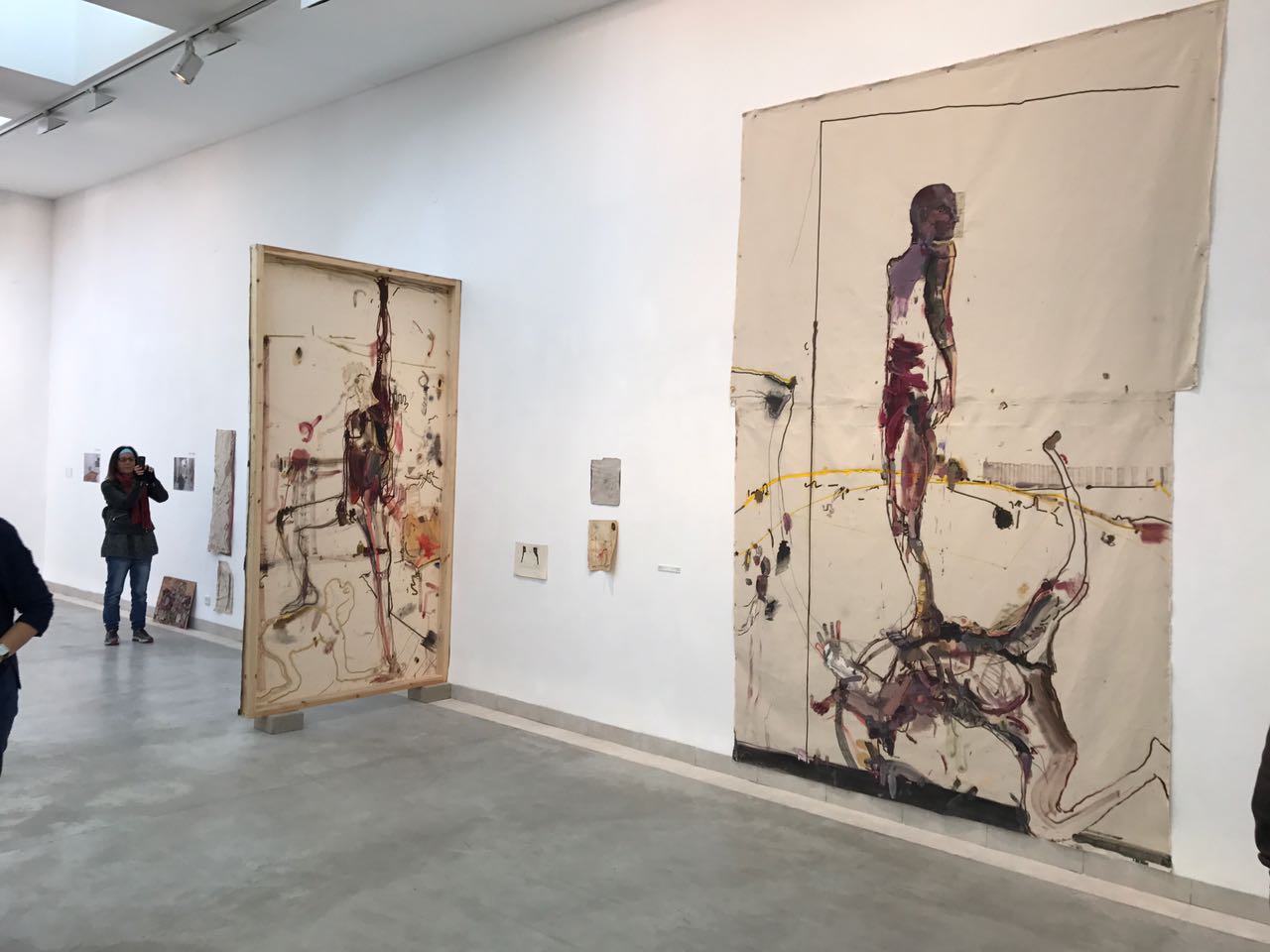 Kupfermann Collection, Israel, 2016
The Body Is A Bag Of Needs, Art Market Budapest 2017, Hungary
What Goes Around Comes Around, Neve Schechter, Dec 2017 - Feb 2018, Tel Aviv
Introspection, Sommer Contemporary, 2016, Tel Aviv
Amir Nave's solo show at Sommer Contemporary Art includes large paintings made of oil and graphite on canvas and smaller drawings of ink and pen on paper. All feature Nave's characteristic characters, stranded amidst estranged existentialistic scenes.
As opposed to his former, condensed works, his current paintings seem to experience a process of reduction and cleansing, so that the materiality of the empty canvas is more present, and sometimes only minimal lines or contours are seen, indicating movement. The canvases themselves are stretched on the wooden frame as if incidentally, and their unravel edges imply a process of decay.
Mostly, the head in Nave's works is amputated, painted on a piece of fabric or paper and attached to the body, as if it was decapitated and now put back in its place. This separation allows Nave to play with the position of the head, whether vertical or horizontal in relation to the body. In his large paintings, this is a condensed head, purple and fleshy. It is hanging flimsily, on top of an emptied body, which can barely carry it. One of the paintings creates tension between a linear, vertical abstract constructionappearing on one side of the canvas, suggesting a figure, and a double-headed body on the opposite side (Untitled (1)). The body is holding his inner organs as if they are about to fall out, while he is escaping, searching for a peaceful refuge within the empty canvas. A different head looks upwards with horror, towards a single horizontal line ­– perhaps a sky, from which vertical lines are being hurled, perhaps lightening (Untitled (2)).
In the drawings, the body is a bit more present, and the head itself is drawn as a clear continuation to the body. But the separation between the two is still present, in the form of yellow plastic glue stains, anointed on the figures' heads. The scenes themselves are a bit more playful, or social. One of the paintings is even titled Brothers. In the drawing Untitled (4) a figure holds a mask of a horse, as if it just uncovered its face, which are themselves animalistic and alien-like.